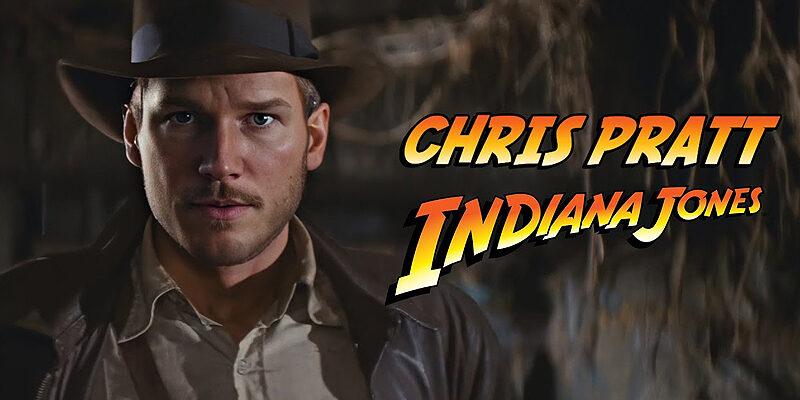 Chris Pratt has become quite the notable actor from his roles in the MCU's Guardians of the Galaxy franchise (Star-Lord / Peter Quill) to Jurassic World's leading man, Owen Grady. Heck, once Universal Orlando opens VelociCoaster this summer, Pratt will be showcased in attractions coast to coast including Disney California Adventure's Guardians of the Galaxy – Mission: BREAKOUT! Now, rumors of Pratt's involvement in the Indiana Jones franchise are continuing to grow.
Previously, the rumors of Pratt's involvement in the fifth installment of Indiana Jones were being constructed to indicate that Pratt's character would take the torch, or in this case, the hat and whip, from Harrison Ford. Now, it seems the rumor has evolved. For those who were thinking that Chris Pratt would become the leading Indiana Jones character, producer Frank Marshall clarified to Den of Geek, "There will only be one Indiana Jones and that's Harrison Ford." But, thanks to Comicbook.com a new rumor claims Pratt may still appear in the next Indiana Jones film.
When we discussed the original rumor, we noted that Chris Pratt has an uncanny semblance to Ford's younger self, which is the exact direction this report takes. Rumor has it, "Lucasfilm is looking at Pratt to play a younger version of the character. He also claims that Indiana Jones 5 is planning to set up multiple spin-off films as well as a Disney+ series and animated show." It will be interesting to see Pratt makes a cameo in the upcoming film. However, Lucasfilm has yet to confirm the actor's involvement in any way. What we do know is that the fifth installment of Indiana Jones will begin filming in the spring of 2021 and is scheduled to be released in July 2022. The original Indy, Harrison Ford, will reprise his role and James Mangold is will be directing, replacing Stephen Spielberg.
A fan video has emerged on YouTube in which, thanks to the deepfake technique, the 'Guardians of the Galaxy' actor ends up becoming the iconic Indy in several sequences from the original '80s trilogy.